MOO DIRT® Top Soil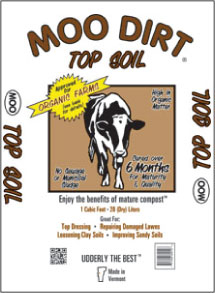 MOO DIRT® is our go-to product for lawn care!
From building sod to minor repair, MOO DIRT® restores, replaces and revitalizes your green space.
MOO DIRT® is also an excellent product as a base for a raised bed garden and any other project where a rich soil is desired. Try some today!
Ingredients:

Composted Manure (from one or more of the following: cow, horse, and chicken)
Sphagnum Peat Moss
Sand

Applications:

Improving Poor Soils
Seeding New Lawns
Top Dressing Lawns
Repairing Damaged Lawns
Filling Low Spots
Amending Existing Soils
Replacing Poor Soils

Available Bag Sizes:
1 cf

To find MOO™ products at an independent garden center near you, click here.
To learn about another MOO™ product, click here.