MOO PLANT™ Tree & Shrub Mix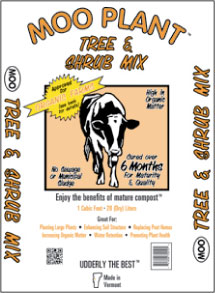 For long-term care and feeding of your perennials and trees, Moo Plant™ is the way to go!
Use it when you initially set your shrubs or trees, and follow up as a topdressing on an annual basis.
This product is a heavier, bulkier mix to help provide plant stability. A blend of composted manure and peat, Moo Plant™ can also be used as a rich dark mulch for healthy long-term growth!
Fed semiannually, your trees and shrubs will provide you with lush growth and longevity, increasing the value of your home while reducing energy costs!
Ingredients:

Composted Manure
Sphagnum Peat Moss

Applications:

Garden Beds
Mulching Trees and Shrubs
Top Dressing Lawns
Improving Poor Soils

Available Bag Sizes:
1 cf

To find MOO™ products at an independent garden center near you, click here.
To learn about another MOO™ product, click here.