About Vermont Natural AG Products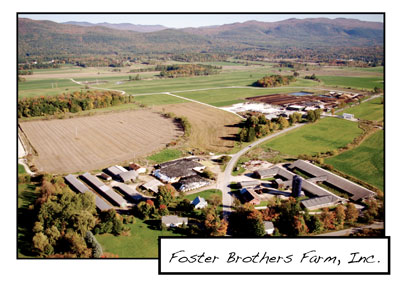 Vermont Natural Ag Products, Inc. (VNAP) is a subsidiary of the Foster Brothers Farm, Inc. in Middlebury, Vermont.  Foster Brothers is a fifth-generation family farm in Vermont's beautiful Champlain Valley.
Our Story
The Foster Brothers Farm began its dairy operation in 1941 and incorporated in 1971.  Today, the farm covers 1537 acres in Addison County.  The dairy has a herd of more than 630 cows, of which more than 370 are milked.  The herd produces over 8 million pounds of milk each year.
During the energy crisis of the late '70s, Foster Brothers Farm started making more than milk to keep the family business moving forward. The Foster family began to produce electricity through use of an anaerobic digester. This digester uses bacteria, which breaks down the manure into methane gas. The gas is then used as a clean-burning, environmentally safe source of fuel for electric generation. This electricity is used to provide power to the farm, and any excess is sold to a local utility.
Not satisfied with simply recovering energy from the manure, the Fosters used their "Yankee ingenuity" to take the process of digestion a step further.  The Fosters began composting in 1989. What started out as a way to better utilize nutrients and supply a local market quickly grew into a regional business as word spread about the superior quality of materials that the farm was producing.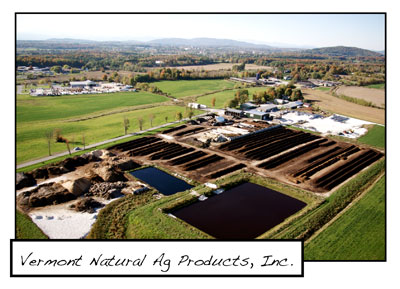 Vermont Natural Ag Products, Inc. has taken over where the farm left off and is now a leader in the production of soils, compost, and growing mixes in the Northeastern United States. Using digested manure in conjunction with natural carbon sources, VNAP has been able to develop a line of products specifically for the organic farmer and homeowner. Our expertise in composting has expanded and we now compost other farms' cow manure, chicken litter, and horse bedding. We are committed to producing the finest composted products found anywhere.  All of our products are constantly tested to ensure they are up to the standards of our professional users.
Our products promote sustainable agriculture and a commitment to family-owned businesses and backyard gardeners. We are continuing our research into new applications and methods for composting and utilization of a precious agricultural resource. We do not believe in the use of Sewage Sludge or Municipal compost for residential or agricultural applications.