MOO GROW®

All Purpose Potting Soil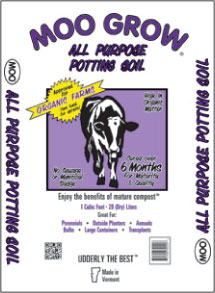 Suitable for a wide variety of applications, MOO GROW® is best used for outdoor growing.
MOO GROW® is made from a  manure based compost, proven to produce lush plant growth.
From beautiful flowers to highly productive container vegetable gardens, MOO GROW® is an excellent choice for long term, outdoor growth.
Ingredients:

Composted Manure (from one or more of the following: cow, horse, and chicken)
Sphagnum Peat Moss
Composted Hardwood Bark
Sand

Applications:

Window Boxes
Garden Beds
Annuals
Perennials
Large Containers

Available Bag Sizes:
1 cf, .5 cf

To find MOO™ products at an independent garden center near you, click here.
To learn about another MOO™ product, click here.